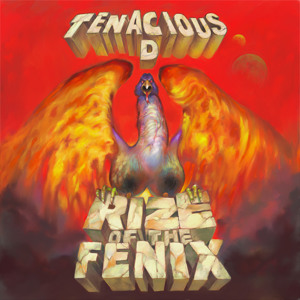 01. Rize of the Fenix
02. Low Hangin' Fruit
03. Classical Teacher
04. Señorita
05. Deth Starr
06. Roadie
07. Flutes and Trombones
08. Ballad of Hollywood Jack and the Rage Kage
09. Throwdown
10. Rock Is Dead
11. They Fucked Our Asses
12. To Be The Best
13. 39
Tercer y último album hasta ahora grabado por la banda de Jack Black: Tenacious D, "The Best Band In The World" (como se hacían llamar ellos mismos). Según un sketch grabado por ellos mismos, luego de haber grabado el POD (pick of destiny) la banda se hizo extremadamente famosa y JB ahora es un millonario egoista quien olvida a su compañero KG, el cual está casi perdiendo la cordura y no puede olvidar a su "mejor amigo". Luego de un segundo encuentro después de mucho tiempo ambos se proponen una vez más tocar juntos y así grabar el tercer album Rize Of The Fenix.

Éste album es más bien parecido al primero, ya que en éste también se escuchan conversaciones graciosas, como siempre el desesperado y arrogante JB poniendo a prueba a KG, sin dejar atrás sus vulgaridades y ocurrencias.